---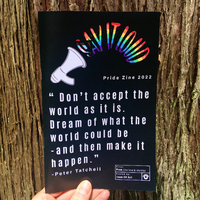 This Pride Zine contains an array of work representing & celebrating a broad spectrum of the rainbow family.
Including art, textile, poetry, illustration & writing - this Zine is brimming with Pride & we hope you'll enjoy it!

The SAY IT LOUD Pride Zine 2022 features pieces from: Thea & Suki Wilkins of Joan of Art, Sophia Filsoofi, Christopher Ochalski, Kelly Mackenzie, Richard Barrett, Seiger, Saffron Reichenbäcker, Jamaica Cass, Vanessa Tomada of The Painted Lady, Tzaddi Gordon, Freiya Benson, Victoria Vanhorenbeck, Maddi Vestrum, Michael Putori, Javier Mejía of Collectivo Collage, Hannah Huckleberry of Grounded Acres Farm, Roz Si Miao, BexGoneWest & Marilyn Sadik.

The print run was made possible by TrailBayCraig, Fade N Dye, The Painted Lady Art Supplies & Framing & Club Card Printing.
The paper Zine is free and currently available at locations on the Sunshine Coast in Canada.

Visibility is as important today as it ever has been. Our safety cannot be taken for granted, neither can our rights. We still need your help to spread the message of pride to the world. To enable us to offer it world wide, we are asking customers to cover postage and packaging. Postage to your location will be calculated at checkout.
See online Pride Zine here for extended content: VivaJoan.com/PrideZine