---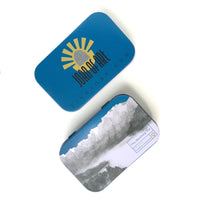 The little tin that houses our Sketching tin makes a great container for storing extra colourways. It is petrol blue coloured on the outside, with a monochrome, lid that features an illustration of misty mountains. We were inspired to create it by the scenery here on the Sunshine coast in British Columbia where Joan of Art is located.

The inside is white and is excellent for use as a palette.
It measures: 9.5 x 6.2 x 2.2 cm (3.7 x 2.4 x 0.9 inches).